Wednesday, December 9th, 2009
A thousand plateaus taldeak deitutako artistentzako deialdi ireki honen berri jaki dugu. Parte hartzeko informazio guztia hemen.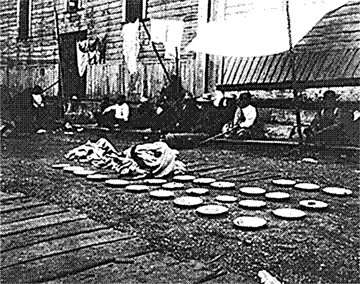 Artists, musicians, filmmakers and performers are invited to submit proposals for work in response to the theme 'noise & capitalism' for presentation as part of the next 1000 Plateaus.
On Saturday 30th January 2010 audiovisual arts collective Kino-Kult are taking over Havant Arts Centre and hosting a digital potlatch (http://en.wikipedia.org/wiki/Potlach) celebrating audiovisual arts and culture in the region. The event is an open platform to which artists working across a range of mediums are invited to contribute.
Anyone can submit an artwork for this event but you must address the theme "NOISE & CAPITALISM":
You may be working with digital media, audiovisual installation, site specific, kinetic sculpture, digital photography, live art, performance, music, theatre and related arts.
You may be a youth arts group, a loose collective, solo performer, student, professional it really doesn't matter.
It can be a work in progress, an existing piece or something you have developed specifically for the event.
There are no rules though you should be prepared to work collaboratively with the other artists involved in staging the event.
Kino-Kult will curate the event and provide stage management, technical services and event marketing. Where possible we will provide technical support, equipment and materials to support you. However the budget is extremely limited and you should be able to provide whatever specialist materials or resources you need to stage or exhibit your artwork.
The following spaces will be available for artists to work in:
- Café/Foyer (multi-projector live performance ambient café culture)
- Theatre/Cinema (live performance and artists films)
- Downstairs Studio (gallery performance installation)
- Upstairs Studio (gallery performance installation)
- Courtyard (performance installation)
- Corridors, lavatories and other miscellaneous spaces (imagination)
Proposal submission forms will be available on the 1000 Plateaus website. Look for the group and you will find all the information you need. If you have questions or want to find out more information contact us via the website
Venue Location (no point in contacting the venue for info they will just send you to the website).
Spring Arts Centre, 56 East St, Havant, PO9 1BS, 023 92472700
http://www.thespring.co.uk