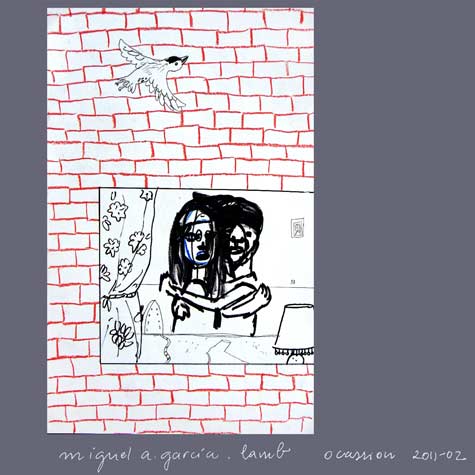 [Occasion 2011-02] Miguel A. García . Lamb
3-track EP
01. Lamb (Stanislav Vdovin Remix) [05:00]
02. Lamb [17:00]
03. Lamb (Stanislav Vdovin Reprise) [04:12]
by Miguel A. García, Stanislav Vdovin
artwork by Raul Dominguez
www.occasionlabel.org
This weird drawing, non-typical for the label, hides the release «Lamb» by the artist Miguel A. Garcia from the Basque Country. Let's take a look in the window of some house, being outside and off the ground. What do we see? Human relations as they are. Relations between man and woman.
Miguel A. Garcia is a musician interested in formal sound constructions, in those, which are usually described as electroacoustics. His composition, second on this single, consists of field recordings, analogue noises and sounds of accordion. Built by «On/Off» principle, the track concentrates attention on the events, which are normally not noticed, or which are so usual, that slip «the field of view» of our consciousness. Author himself recommends listening at a very low volume to let enviromental sounds be weaved in structure of composition for additional experience.
Prologue and epilogue of the release (Stanislav Vdovin Remix and Reprise) are more musical and can be interpreted as beginning and ending of relations, when emotional peak is reached, and worlds of two are illusive, trying to understand each other and themselves.
Though, we let the listener draw own parallel and apply this music to own experience. One can be said with confidence: your time won't be wasted.