Tuesday, April 30th, 2013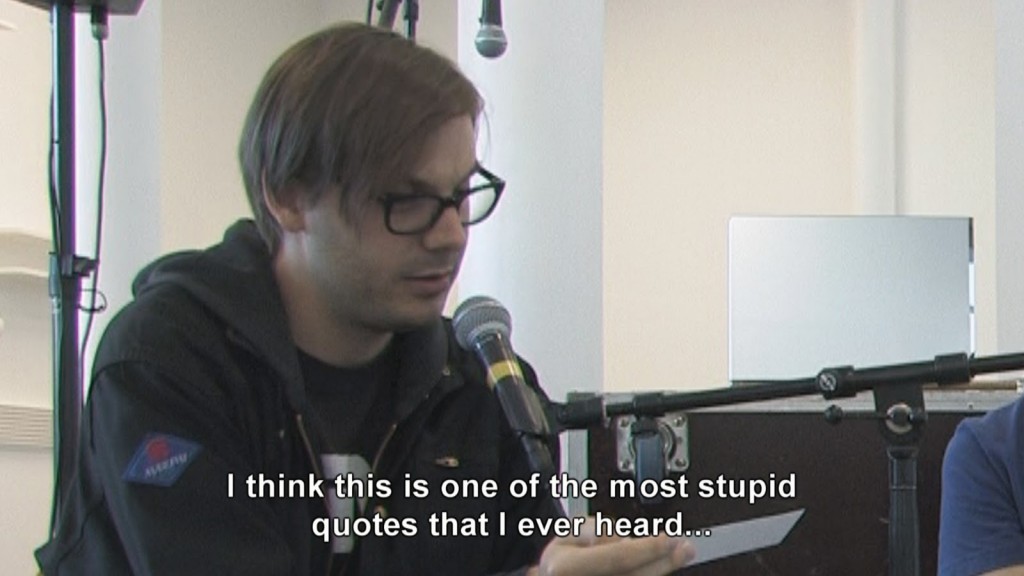 The Basque anarchist artist Mattin has spent the last decade establishing a highly distinctive practice in noise and 'free' improvisational music. His work pays homage to the histories of these genres, while simultaneously undertaking a provocative and often humorous interrogation of the rules and standards to which they adhere—the proposed anti-sociality of noise, the implicit 'freedom' in improvisation. Mattin considers this testing to be a process of 'distributing vulnerability' across the core assumptions made by audiences and performers alike.
Disembraining are bringing Mattin to Melbourne, Sydney, and Brisbane in May, to stage a series of non-concerts, concerts, silences, conversations, and other activities in response to the question 'What isn't music?' This question nods to Australia's long-running experimental festival What Is Music? The festival largely provided its own answer, embracing John Cage's maxim 'everything we do is music', philosophically assimilating all sound (and action) into the 'project' of music. This radical opening up of 'music' to sound plays out overtly in the 'noise' tradition, but abates the discerning of experimental sound's 'non-musical' possibilities. In a context of Cageian consensus, it becomes crucial to reframe the question as a negation: What sounds remain impossible to assimilate? What isn't music?
30th April – Workshop, zajia lab, Beijing
2nd May – The NOW now @ Hibernian House, Sydney
3rd May – Collaboration with Douglas Kahn in an Anechoic Chamber at Sydney University
4th May – International Noise Conference @ New Low Gallery, Goodtime Studios, Melbourne
5th May – on-Concert / Why Noise? [post-INC] @ Goodtime Studios, Melbourne
7th May – Make It Up Club @ Bar Open, Melbourne
8th May – Art Forum Series @ VCA, Melbourne
9th May – Performance @ Institute of Modern Art [6pm], Brisbane
11th May – Talk / Listen / Non-Concert @ The Loft QUT [4pm], Brisbane
12th May – Real Bad, Mattin @ Real Bad, Moorooka, Brisbane
15th May, Artist talk given by Mattin at Taipei University of Fine Arts, Taipei
16th May, Performance with Hong-Kai Wang at Z Space, Taichung
17th May, Mattin at TCAC, Taipei
18th May, Performance with Hong-Kai Wang at Losing Sounds, Noise Kitchen, Taipei
19th May, Performance, zajia lab. Beijing 8:30  pm