February 27th, 2006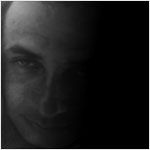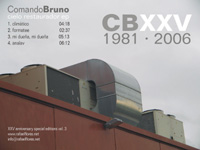 Rafael Flores es de Andújar y lleva publicando discos desde 1981 bajo su propio nombre y bajo el seudónimo Comando Bruno. Durante este tiempo ha realizado una larga lista de colaboraciones con músicos cercanos en pensamiento y trabajo (Francisco López, Zan Hoffman, Avant Dernières Pensées, Seiei Jack Nakahara and Thomas Park, por nombrar algunos). Su música ha sido publicada por sellos discográficos de diversas partes del mundo como Discos Esplendor Geométrico, Korm Plastics, Zero Cabal, Graf Haufen Tapes, BogArt, Tonspur Tapes etc.
Su obra es una investigación en la música experimental y la exploración sonora. Ha realizado obras de audio y video muy personales que resultan dificiles de definir.
desetxo61 25.2.2006 Comando Bruno cielo restaurador ep
Tracklist (OGG):
1. climático
2. formatee
3. mi dueña, mi dueña
4. analav
Rafael Flores ha construido un sólido universo personal mediante un uso inteligente de grabaciones naturales y métodos de musique concréte, collages y una gran variedad de ideas vanguardistas, mezcladas con un particular sentido del humor cercano al espíritu dadaísta y al surrealismo.
Uno de los artistas sonoros mas activos de la escena musical industrial (red internacional de cassettes, video experimental, arte radiofónico, mail art) de la década de los 80, ha influenciado a nuevas generaciones de artistas sonoros experimentales.
Desde 1991 al 2001, Rafael Flores ralentizó su actividad musical y ha estado envuelto en el videoarte, publicando algunos trabajos sonoros de tirada limitada y en ediciones privadas para amigos. Tras esta larga pausa, vuelve editando nuevas obras, pero manteniendo su política de ediciones limitadas en cdr o en netlabels.
Acaba de publicar recientemente Nubes, cometas, rumores y orugas(2005) en el sello ruso monochrome vision (russia)
LINKS:
Rafael Flores web (en construcción)
Soundsense blog
Comando Bruno
Texto original: monochrome vision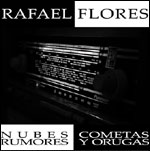 Rafael Flores is from Andújar (Spain), and has recorded a number of albums since 1981, under his own name and also as Comando Bruno. Many collaboration works followed with like-minded musicians (Francisco López, Zan Hoffman, Avant Dernières Pensées, Seiei Jack Nakahara and Thomas Park, to name a few). His music was released all over the world by such labels as Discos Esplendor Geométrico, Korm Plastics, Zero Cabal, Graf Haufen Tapes, BogArt, Tonspur Tapes etc.
His whole work is milestone of experimental music and sound exploration, he produces audio/videoworks in a very much personal way too hard to define. Rafael Flores build a solid personal universe with an intelligent use of natural recordings and the methods of musique concréte, collages and plenty of other vanguard approaches, mixed with a particular sense of humour next to spirit of dada and surrealism.
One of the most active sound artists in the 80′s industrial music scene (international cassette network, experimental video, radio and mail art), he influenced new generations of experimental sound artists.
His most notorious feature is the intimate poetical touch in the soundworks, quite unusual for the industrial music scene:
"Those sounds became tinged with poetry, and they have been holding the contrast between the luminous mornings and the anxious dreams of the siesta… The light breeze waves a weightless curtain. The curtain caresses a just made bed, although perhaps it took place many years ago. One can hear a row that turns suddenly into calm, then in the vertigo of silence a spiral of dreams appears, guided by voices from otherworld."
[fenici magazine]
From 1991 to 2001, Rafael Flores reduced musical activity, and was involved with videoart, releasing just a very limited soundworks as "friends only" private editions. After a long pause, he returns to editorial activity, but again with a few series of very limited editions on cdr and some net editions.