February 20th, 2006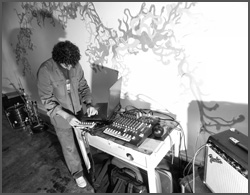 Welcome to the second edition of Famous For 15mb,
a new space for deserving artistic talent.<
The works of these chosen artists are presented as MP3 or video files and also as manageable .zip files of 15mb. We present the work of new artists each month on the 15th and will include artists from any genre, background or discipline that we consider worthy of attention from from your discerning eyes and ears. As this is not My Space, not everyone who submits gets to be featured on Famous For 15mb.
If you have a band, are an artist, have a label, DJ, director, animator or whatever and would like to submit something for our consideration please just drop us a line and we'll explain the drill. info(a)famousfor15mb.com
Next presentation: 15th March.
…………….
Welcome to the second edition of Famous For 15mb,
a new space for deserving artistic talent.
We were overwhelmed by the response to last month's launch and have been in contact with many new artists offering us their work for these prestigious slots. So here, once again, we offer you the cream of all the under-booked and overlooked musical and audiovisual artists from around this small planet.
We have more videos for you this month, among them Iris Piers (a Dutch Berlin-based video-artist who we met when she was on tour with Ljudbilden & Piloten and Dead Texan in Scandinavia last year) and Venezuelan collective Babylon Motorhome and their take on folk-singer Simon Diaz.
As for the music, we have some of our dearest and most challenging additions so far (this is only the second edition so watch out) with Les Aus, Gregg Kowalsky, He Can Jog and several others. It's all free. Please download and enjoy. Don't forget to leave your comments on the message board, we love feedback of any kind.