March 22nd, 2006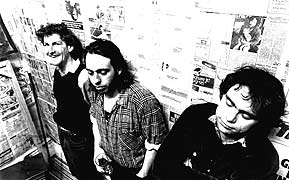 Los neozelandeses THE DEAD C fueron y siguen siendo uno de los referentes mas importantes (y por desgracia desconocidos) de la escena de rock experimental, no sólo de su pais si no del mapa internacional. Pioneros en su pais en mezclar la distorsión del rock con la experimentación mas extrema, esta banda contemporánea de otras bandas como Sonic Youth recorrió los últimos años de los 80 y los 90 repartiendo bofetadas sonoras como Trapdoor Fucking Exit (1990) o The White House (Siltbreeze, 1995) y tras mas de 20 discos hoy todavía sigue en activo.
Merece la pena tambien repasar otros proyectos y colaboraciones de los miembros Michael Morley, Robbie Yeats y especialmente Bruce Russell.
Esta grabación de video sacada de YouTube, esta realizada por el año 2000 en un programa de música pop de su pais y nos enseña a la banda en un grado de intensidad muy alto, con un Bruce Russell en trance feedback e interpretando un muy intenso "Sky". Ademas hay una pequeña entrevista a los tres miembros que hablan sobre du trabajo y sobre otros artistas como Suicide.