July 27th, 2006
Geert Feytons, más conocido como miembro y fundador de la banda belga Noise-Maker's Fife y con el que casualmente pudimos coincidir en la última edición del festival ateniense Electrograph, ha fallecido recientemente. Inventor de sus propios instrumentos, escultor sonoro, escurridizo pero constante en su trabajo, nos deja un extenso legado de obras sonoras y visuales, en el que se encuentran interesantes colaboraciones como Negative Entropy junto a Michael Prime.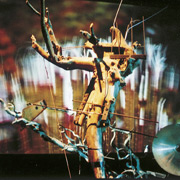 [de la web de Beta-lactam bing records)
"We are sad to announce that our friend and beloved one Geert Feytons is no longer amongst us. Geert left us unexpectedly last Saturday. His family, his friends, all who loved him, will miss him. Geert was a unique person, a great artist and even more a wonderful man. We are sad and at the same time glad that we had the opportunity to have known him, to have shared glorious moments as well as difficult ones together. We remember him as someone with plenty of love and friendship to share, as a person with a visionary talent, as a creator and organiser, as an artist with plenty of energy, and most of all as a person with a big heart. Together we have spent glorious moments. Geert was one of those few persons able to give energy when you needed, to make you smile when things went wrong, to live as if it was a piece of cake. At the same time he decided that life had given him everything, and that there was nothing more to wait for.
He leaves us here alone; he leaves us here in emptiness difficult to cope with. We have no words to describe what we feel at this right moment. Noise makes place for silence, colours trade in for blackness and there is even no more place for chaos. He will always be in our heart and memory.
We will all miss you Geert. His friends and beloved ones."