March 21st, 2007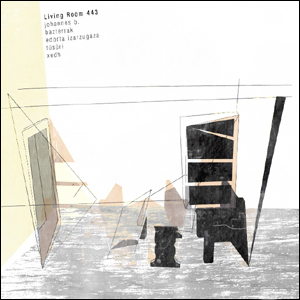 Audio clip: Adobe Flash Player (version 9 or above) is required to play this audio clip. Download the latest version here. You also need to have JavaScript enabled in your browser.
El netlabel escalared inaugura nueva serie bajo el nombre Lofty con una grabación colectiva a cinco cabezas entre johannesb (baiona), bazterrak (Sodupe), Edorta Izarzugaza (bermeo), Tüsüri (Errenteria) y xedh (vitoria-gasteiz). Grabación realizada el pasado mes de diciembre en Sopelana y que refleja parte de las improvisaciones grabadas entre los cinco. Un formato (el de quinteto o mayor) que a mi parecer resulta un tanto complicado y que excepto en contadas ocasiones (ahora mismo me vienen a la memoria el "hands of…" de MIMEO y el Television Power electric 1) suele dar los resultados que a priori se podrían esperar de semejante combinación. En ese sentido LivingRoom 403 se queda a medio camino. Acierta en la semi-silenciosa larru baster, aguanta el pulso con guitarras de larri baster y se apaga un poco en larre baster, donde las diferentes voces no acaban de tomar una misma dirección y el resultado tiende a perderse. Aun así, el trabajo no peca de saturación de ideas, suena muy equilibrado y resulta agradable de escuchar. Curioso experimento del que esperamos nuevos volúmenes (porque sabemos que los hay…).
[lofty e001] johannes b. + bazterrak + edorta izarzugaza + tüsüri + xedh – Living Room 443
1.- larre baster. (07′16)
2.- larri baster. (10′47)
3.- larru baster. (16′40)
…recorded… >>> live at sopelana, gipuzkoa ( december 2006 )
miguel a garcia "xedhâ€? – www.xedh.org
johannes buff – www.knellsound.free.fr
enrike hurtado "bazterrakâ€? – www.ixi-software.net
oier iruretagoiena "tüsüriâ€? – www.mundurat.net/tusuri
edorta izarzugaza – www.ertza.net/eng/artistak/edorta.html
>>> English version below
"Living Room 443″ es el nombre de la primera referencia en Lofty Escala. Una composición en tres partes firmada por johannes b, bazterrak, edorta izarzugaza, tüsüri y xedh. Utilizando la improvisación como eje vertebral en el proceso creativo esta grabación serpentea los terrenos de la música experimental mas fria y oclusiva. Con una influencia marcadamente industrial, estos cinco artistas vascos nos situan en ambientes y paisajes ciertamente marginales y desoladores. Un debut de lujo para Lofty Series en nuestro sello Escala..
"Living room Room 443″ is the name of the first reference in Lofty Escala. A composition in three parts signed by johannes b, bazterrak, edorta izarzugaza, tüsüri and xedh. Utilizing the improvisation as vertebral axis in the creative process, this recording winds the lands of the experimental music colder and occlusive. With a markedly industrial influence, these five basque artists situate us in environments and devastating and certainly marginal landscapes. A debut of luxury for Lofty Series in Escala Netlabel.
www.escalared.com | escalaNetLabel 2007